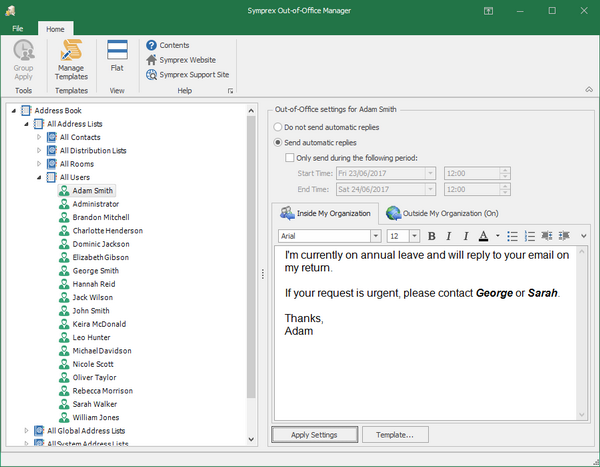 Out-of-Office Manager is a simple solution to allow central management of out-of-office assistant settings and messages in your organization on Exchange 2007, 2010, 2013 and 2016.
With Out-of-Office Manager designated users, such as receptionists, secretaries and team leaders, can view and change the out-of-office settings and messages for anyone in your staff at the click of a button.
You can define templates with reusable replies that can even include merge fields populated with data from Active Directory.
Out-of-Office Manager utilizes its own service to update settings on Exchange, so the interactive user do not need any special permissions to use the product.
Out-of-Office Manager can help your business:
Improve collaboration by making sure colleagues are immediately notified when they e-mail a recipient who is unavailable for whatever reason
Improve customer service by ensuring customers always receive a valid out-of-office response when a recipient is unavailable for whatever reason
Improve system security because chosen users can manage the out-of-office settings and message of other users without having access to their mailbox contents
Out-of-Office Manager examples of use:
Receptionist can enable an out-of-office message when an employee calls in sick
Receptionist can ensure that out-of-office messages are enabled for employees during holiday periods
Make sure your business maximizes use of the out-of-office feature in Outlook and Exchange, and improve collaboration and customer service today.
Download the free evaluation version now and experience it for yourself.