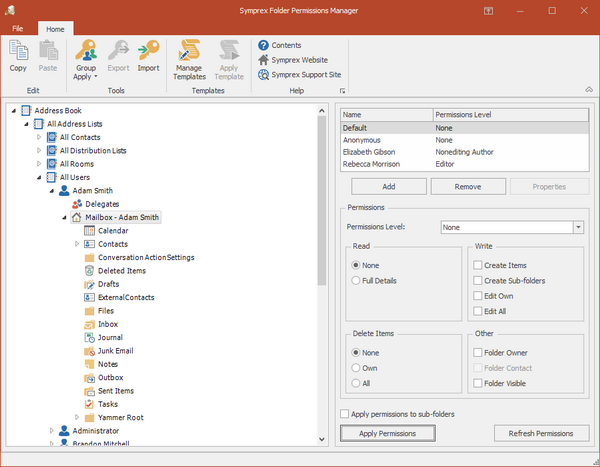 Folder Permissions Manager allows administrators to centrally manage mailbox delegates and folder permissions on mailbox folders and public folders on Exchange 2007, 2010, 2013 and 2016.
Delegates and permissions can be listed and changed manually or using templates created using the built-in wizard. Either way delegates and permissions can be easily applied to any number of mailboxes and folders.
Folder permissions can also be exported for further analysis, and can be imported for example during Exchange migrations.
Other features include copy and paste folder permissions, and a command-line utility to apply templates, which can also be scheduled.
Folder Permissions Manager is the perfect solution for anyone who wants an easy way to:
Implement and maintain permissions requirements and policies by enforcing permissions on mailbox and public folders according to defined business policies
Assist users in maintaining permissions on their folders so that for example team members can access each others folders
Support solutions, for example collaboration solutions, that may require specific permissions on specific folders
Folder Permissions Manager examples of use:
Make sure receptionists and other key personnel have reviewer access on all calendars
Ensure that contacts are available to all members in a team
Report and analyse permissions across entire system
Migrate permissions during Exchange migrations
Folder Permissions Manager is an essential tool for any organization that uses Exchange server.
Download the free evaluation version now and experience it for yourself.