Symprex Company Overview
Certified Gold Partner since 2011
Certified Partner since 2002
Our History
Symprex was founded in 1999 with a focus on developing software add-ons for Microsoft Exchange & Outlook. Symprex entered the market with its first product, LOOK, a group calendar solution that facilitated team planning and scheduling, as well as improved customer services. Since then the company has gone from strength to strength, and today, with more than 10,000 customers worldwide, Symprex is one of the globally leading providers of email signature solutions and other add-ons for Office 365 and Exchange. Symprex is based in London, United Kingdom.
Our Ambition
Our ambition is simple. We strive to develop and offer innovative and useful products that extend and improve Office 365 and Exchange. For our latest super modern cloud-based email signature offering check out Signature 365.
Our Products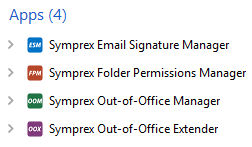 Our products are proven in the real world. The ability to scale with the needs of our customers is inherent by design and is demonstrated in our customer base. Our products are being used every day to manage email signatures, disclaimers and campaigns, improve email branding, communication and customer service, and to manage mailbox delegates, folder permissions, and automatic replies, in installations ranging from small to global with tens of thousands of mailboxes spanning different countries and time zones.
More...
Our Customers
Symprex has more than 10,000 customers in over 100 countries, ranging from small to global organisations, in public services, and across all industries, including, for example, financial services, technology, manufacturing, education and healthcare. Our largest customers are using licenses for our Email Signature Manager solution for over 30,000 users.
More...